http://www.ynet.co.il/articles/0,7340,L-5012319,00.html
מסוק וצוללת לא-מאוישים, טנק היברידי: הפיתוחים החדשים בדרך לצה"ל
במינהל פיתוח אמל"ח במשרד הביטחון חושפים שורה של פיתוחים צבאיים שיגיעו בשנים הקרובות לידי הצבא. צפו בסרטונים: הטנק שיכיל שני לוחמים בלבד, רחפן שיורה מהאוויר, רובה שיירה רק אם יש פגיעה ודאית וצוללות בלתי מאוישות. ראש מפא"ת: "עוסקים בפתרונות לכלל האיומים"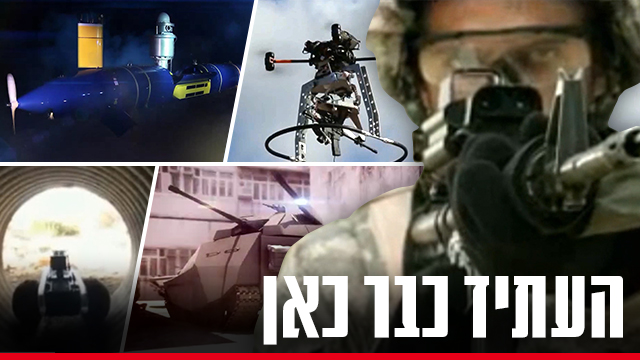 a Simulation of Project Carmel
Brig. Gen. (res.) Didi Ben-Yoash, formerly Chief IDF Armored Corps Officer, presented a simulation of Project Carmel – a future technology demonstrator for the IDF Armored Corps – at the 2nd International Ground Warfare & Logistics Conference
Brig. Gen. (res.) Didi Ben-Yoash, formerly Chief IDF Armored Corps Officer, presented a simulation of Project Carmel – a future technology demonstrator for the IDF Armored Corps. The objective of this long-term program is to develop the technological infrastructure for the future armored platform that will constitute a quantum leap with regard to the primary characteristics of the future platform – operation, weight, size and survivability.
The future armored platform will be light, agile, small, relatively inexpensive and simple to operate and designed primarily for operation in urban areas with the hatches closed. The Carmel platform will be operated by two crewmen seated side-by-side, one of whom will be the platform commander and both of whom will be able to execute all of the activities required in order to operate the platform.
In order to enable operation by two crewmen only, a revolutionary decision-support system will be required. This system will carry out most of the activities currently carried out by the crewmen (including autonomous navigation and driving, target spotting, aiming, independent firing whenever possible plus other features).
The crewmen manning the Carmel platform will only carry out the operations the system cannot execute on its own. The cockpit will be sufficiently spacious to accommodate an additional crew member, who would be able to operate external systems (e.g. ground/aerial autonomous vehicles and stand-off munitions). The third crewmen manning a unit command vehicle will be the commander of the relevant unit (platoon commander/company commander).
The future armored platform will have a hybrid drive system that would enable, among other things, storing of energy so as to fulfill all future operational demands. The platform will be protected by a state-of-the-art active protection system and secured against cyberattacks. The new platform will be able to destroy enemy antitank detachments and rocket launchers. Owing to its small size and light weight, it will be able advance relatively easily through dense urban areas.
Three industries (Rafael, Elbit Systems and IAI) are currently engaged in the installation of the systems required for the operation of the future armored platform by two crewmen. Rafael offered a transparent cockpit. Elbit Systems suggested that the tank be commanded using a crewman's helmet offering similar capabilities to those of the helmet Elbit Systems provides to pilots of fifth-generation fighter aircraft, while IAI offered a combination of both solutions.
According to Ben-Yoash, the Carmel Program draws a lot of interest among the international armored platform community. He stressed that the Carmel Program is a truly revolutionary and unique program in the world of armored and fighting platforms.
"The Carmel Program is intended to develop the technological infrastructure for the future armored platform. In this context, an infrastructure will be developed to enable the employment of all munition types, including missiles. The future active protection program, which is to include highly-developed collective protection in the future, is being developed in the context of the Carmel Program. When it is completed – it will be used for existing platforms (Merkava, Namer & Eitan) as well. This principle (of fitting technologies that had matured in the context of the Carmel Program to existing armored platforms) applies to an extensive range of subjects," concluded Ben-Yoash.
http://www.israeldefense.co.il/en/node/29665
1)The IDF just announced a new tank development called Merkava 4 Barak, which although not a Mark 5, and not related to the Rakiyah program, is a substantial upgrade to the Merkava 4. So I think we'll go back to calling it Mark 4B. The tank is said to be completed within just 3 years from now.
The upgrades said to include a new system that would prevent the need for the crews to stick out their heads to see more clearly. This is most likely the Elbit's IronVision, based on the JHMCS 2 helmet and its See-Through-Armor technologies.
New and larger touchscreens, and a capability to operate UGVs from within the tank (resembles this).
2)The Trophy system was said to be vastly improved "shortly", and will equip Merkava 3 tanks of the 188th active Brigade soon. A contract has already been signed.
3)Rakiyah program was heavily hinted at being the IDF's next gen MBT that will gain operational capability in 2027. Previously it was hinted as a specialized combat vehicle that will not replace Merkava tanks.
It's said to be around 30-40 tons, armed with a non-conventional tank cannon of possibly collapsible design, and with a crew of 2 men in an armored capsule.
On another note, IDF Spokesperson Unit releases video that shows a November 2016 tank strike on an ISIS position in the Golan, in response to ISIS's attack attempt on an IDF patrol unit. The attacked position is a long abandoned UN facility (personnel moved to Israel when the Syrian war started).
Unfortunately the video isn't yet available on Youtube but you can see it here: http://www.ynet.co.il/articles/0,7340,L-4933156,00.html
Imagine a tank that can shoot a laser or an electromagnetic pulse. How about one that can drive on a hybrid engine – partly powered by electricity – instead of the loud diesel engines used today? These technologies and others are under consideration for integration into Israel's future tank which the IDF hopes will be operational by 2020.
Last year, the IDF Ground Forces Command set up a team of combat and technical officers – from the Armored Corps, the Weapons Development Branch in the Ground Forces Command and the Defense Ministry's Merkava Program Office – to begin planning Israel's future tank, the successor to the Merkava.
Development and construction of the Merkava began in the 1970s, and the most advanced model, the Merkava Mk 4, entered service in 2003.
Currently, two brigades are equipped with the Merkava Mk 4, purported to be one of the best-protected tanks in the world and capable of superior speeds and maneuverability.
The rest of the IDF's armored brigades operate older versions of the Merkava or M60 Pattons.
"When we look at what the future tank will look like, we need to look broadly at all technology that exists," Brig.-Gen. Yigal Slovik, outgoing commander of the Armored Corps, said this week. "There are such things as electromagnetic or laser cannons, but right now they are too big and not applicable. They might however be in the future."
For power, Slovik said that the tank could potentially operate on a hybrid engine that burns fuel to charge batteries that can then independently power the tank for extended periods.
Slovik said that the crew of the future tank would also likely be smaller than today, and as few as two soldiers could operate it.
"The future tank will ultimately be faster, better protected, more interoperable and more lethal," he said.
The decision to begin developing a new tank was sparked by the entry of active-protection systems such as the Trophy, which has been installed on an entire brigade of tanks and successfully intercepted a rocket-propelled grenade along the Gaza border last year.
The thinking in the defense establishment is that tanks no longer require thick layers of armor – which slow down the vehicle, and raise fuel and production costs – and could suffice with less armor and more systems like Trophy.
1: hybrid engine require batteries to be replaced after a certain amount of time. What if that time comes in the battlefield as no one can rightly predict the duration of a war ? The engine would have to run on diesal again which raises , a logistical nightmare.
2: Light armor theory is good , it means , more agility and speed. Made possible by APS , but the future IFVs would have high performance guns with high caliber , uranium tipped anti material / AP bullets possibaly fired by an electromagnetic firing machanism at multiple times the speed of sound ,with ROF of
1500 bullets per minue or greater .light armor will not last long against such systems.
3: APS also has a limit to how many projectile it can stop and it can be fooled by firing dummy projectiles at it , wait for it to run dry and bang !
4: APS nor high agility would provide protecton from future ATGMs with laser , IR guidence and very high AOA , with range extending 18kms with multiple high expolsive warheads.
5: CAS a/c and attack helos in the future , would carrry sensor fused cluster bombs which cant be escaped from by using a hybrid engine , light armor , and APS.
6: Many countries would have laser based jamming devices and high voltage electonic beam technologies to fry the electronics of an incoming tanks , turning them into sitting ducks.
7: Few countries would have , SRBMs with multiple TNWs having PPA. aka doomsday for an invading armor unit.
Moral of the story. Having light armor completely defeats the purpose of a tank. Having two crew may sound futuristic , but it would become an operational failure if one of them gets hurt , killed , sick or gets into disagreement with the fellow crew , plus two crew can't fix a tank if it breaks down in middle of an active hostility zone.